A Guide to Sports Injury Rehabilitation at Buchanan Clinic


Arriving at the Sports Injury Clinic
On your first visit to our sports injury clinic you should turn up 10 – 15 minutes before the appointment and visit our reception desk. Make sure you bring appropriate clothing such as shorts and a t-shirt (for males) or shorts and a vest top or sports bra (for females). At reception we'll give you a consultation form to fill out in our waiting area. Your practitioner then comes to greet you in the reception area and takes you to our treatment room.
Sports Injury Assessment
At the beginning of your first appointment we'll ask more in-depth questions about the sports injury and your symptoms. After this there'll be a general or specific assessment depending on your injury or problem area. This can take up to 20 – 30 minutes because the assessment is the basis for all future rehabilitation.
Once your assessment has been completed, we'll explain the best course of treatment based on what we've found. If you are still experiencing swelling or bruising in the injured area, we can take the assessment although treatment might be limited - rehabilitation can't begin until the swelling has subsided, which is usually 24 – 72 hours post-injury.

The Rehabilitation Process

Each rehabilitation programme is specific to each person and after our initial discussion we'll be aware of your needs and goals. Your needs and goals will largely influence the exercises and equipment we use to aid the recovery process. If you struggle with anything during rehabilitation we can always provide an alternative.
Principles of Sports Injury Rehabilitation
Sports Injury rehabilitation is used to help preserve strength, contractility (how well the muscles can contract) and elasticity of the surrounding tissue and the affected area. It also helps limit the amount of scarring in the area.

The main aims of Sports Injury Rehabilitation are:
Increase strength endurance of the muscles
Improve coordination and your sense of body position
Regain normal range of motion and ease of mobility at the joints
Strengthen the muscle and tendon attachments
Optimise the length of the muscles and tendons by stretching tissue fibres
The 4 Stages of Rehabilitation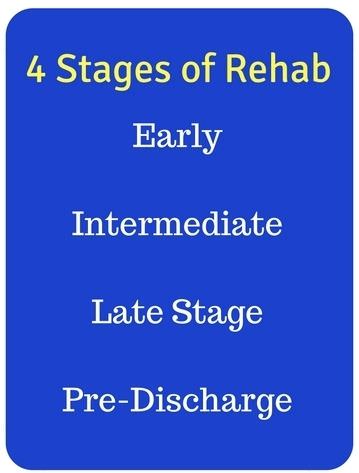 The Early stage of rehabilitation refers to a soft tissue injury that prevents any form of weight bearing activities due to pain and suffers from less than 2/3 range of movement at the joint.
The intermediate stage of rehabilitation refers to a soft tissue injury that only allows partial weight bearing due to pain and the patient is suffering from 2/3 range of motion at the injured joint.
The late stage of rehabilitation is when the patient is fully weight bearing and has nearly full range of motion and no pain however the surrounding muscles are weaker than they were prior to injury.
The pre-discharge stage is used to improve strength, power and other training forms above and beyond the level of fitness prior to injury. This is to reduce the risk of a reoccurring injury by making the muscles stronger than they were when the injury first occurred.
The 2 Forms of Injury Rehabilitation Programmes
There are 2 different forms of injury rehabilitation programmes that we can discuss and again, it will depend on what we've established your goals are.
Home Programme
The first form is a home programme which would have you to working through an exercise programme designed and agreed upon in the clinic. These sessions are performed at home with a follow-up appointment to monitor progress and provide a new programme (usually every 1 – 2 weeks). You would be responsible for performing the exercises correctly and sticking to the rehabilitation programme to achieve the best results.
Clinic Programme
The second option is a clinic run programme where your therapist can be with you through the stages of rehabilitation. This means they can help guide and motivate you throughout various exercises and stages of your injury rehabilitation. Whichever option you choose, the focus will always be on getting you back to doing what you love.
Sports Injury Clinic in Edinburgh or Glasgow
We have appointments available for our Sports Injury Clinic in Edinburgh or Glasgow. Book online or contact us if you have any questions and we'll be happy to help.