At the Buchanan Clinic, our Orthotists have extensive experience with the use of carbon fibre orthoses for AFOs and KAFOs
We often get asked about the advantages and disadvantages of these types of splints.
So what is Carbon fibre?
We use the term Carbon fibre to describe this type of device but it is not just carbon fibre, it is a composite material made from a few different materials. The exact makeup of each device is a closely guarded secret. However, there are general principles that apply to all splints made from Carbon Fibre.
As the name suggests the carbon in the material is a fibre which you can think of like a string. These 'strings' are then weaved or orientated to create a fabric. These fibres then need to be impregnated then baked with a resin to create a rigid device.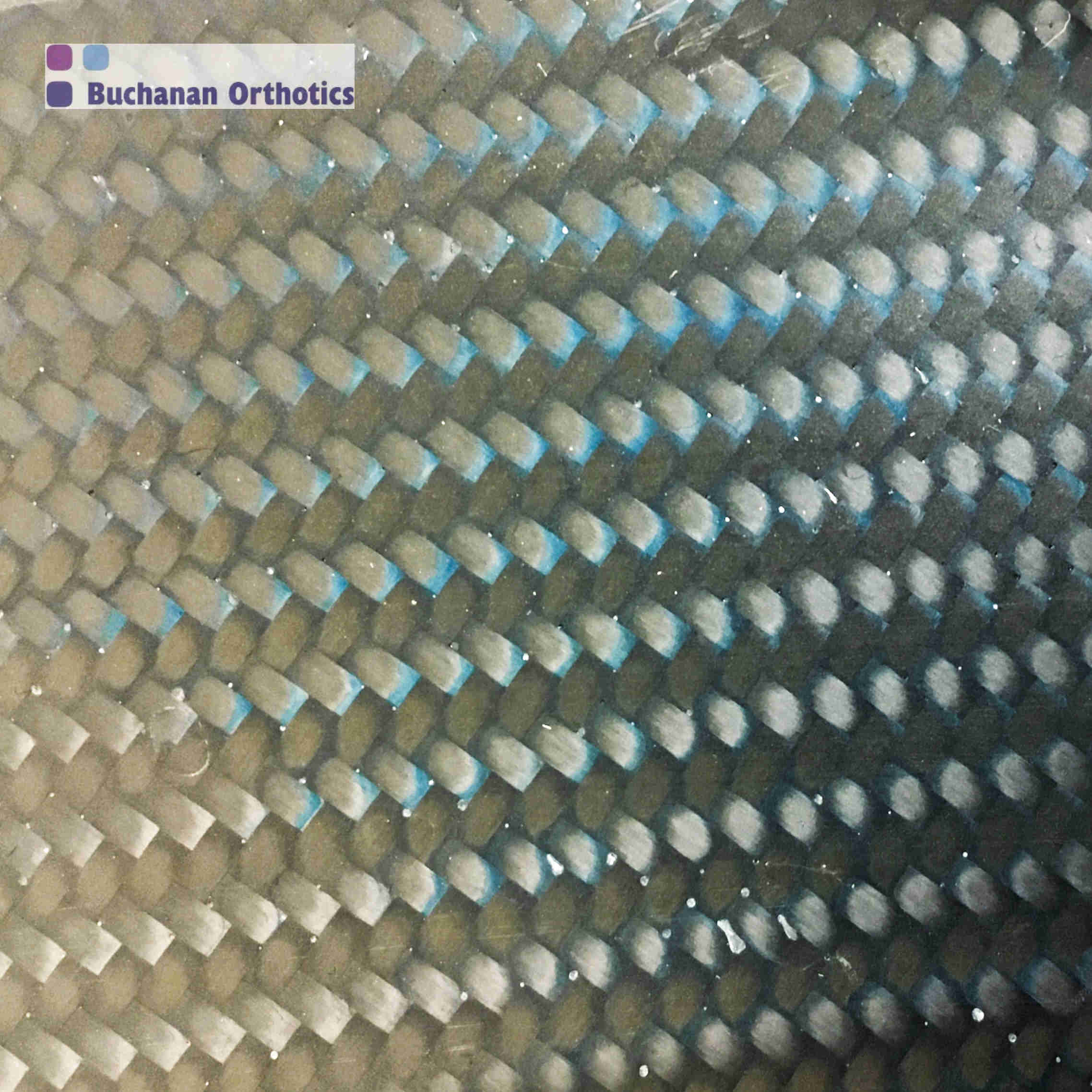 Carbon Fibre weave
What are the advantages of a Carbon fibre AFO or KAFO?
It has a high weight to strength ratio allowing for lighter thinner devices when compared to a traditional manufacture orthosis of similar function.
This high rigidity also enables the device to be smaller than a traditional plastic device as sections can be cut away which would be impossible in plastic.
Certain Carbon fibre devices can also provide some energy return. This energy return comes from the deflection of the device under load which when the load is removed provides a spring back.
Its increased rigidity can allow for single-sided KAFO joints to be used decreasing KAFO weight this is also possible with AFO's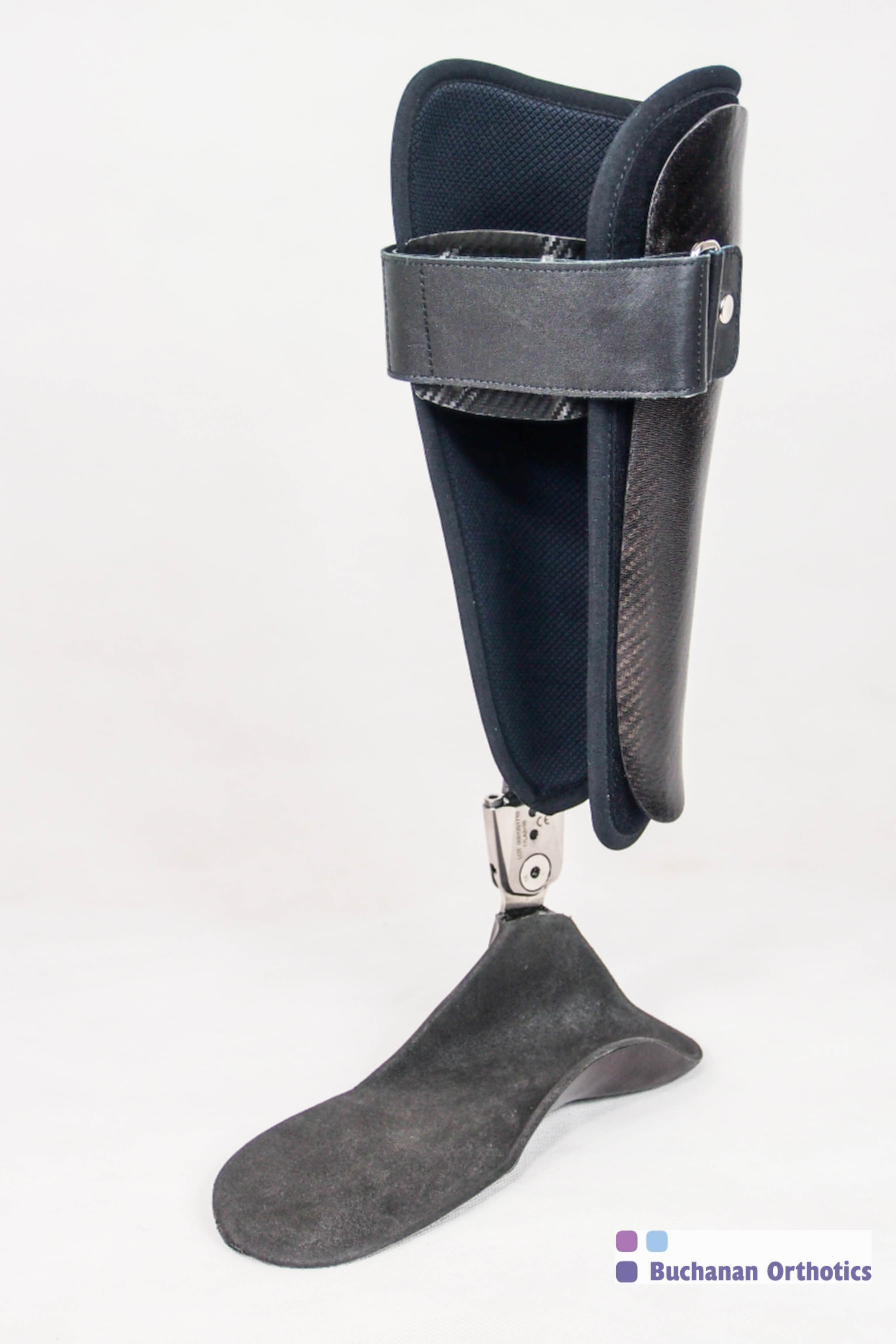 Unilateral Ankle joint 17LA3 from OttoBock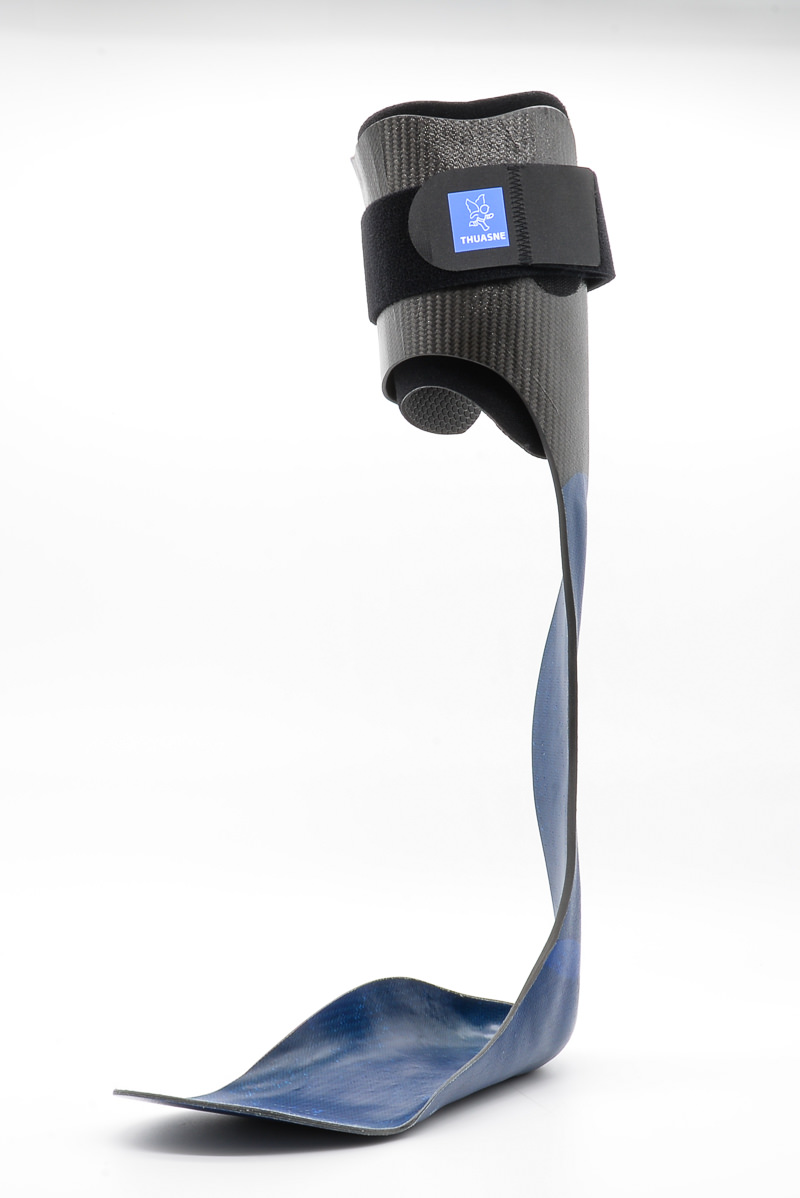 Single Strut AFO from Thuasne
Some Stance control devices can only be made in Carbon fibre such as the Emag from OttoBock
What are the disadvantages of a Carbon fibre AFO or KAFO?
Cost. Carbon fibre devices are more expensive than plastic devices due to increased material costs and increased production times.
It is very hard. This can lead to problems in situations when sensation may be impaired.
Once produced they cant be heat altered. Traditional plastic devices can be adjusted with heat to enable alteration. Carbon fibre orthoses cant be heat adjusted once they are made.
Not everyone likes the energy return.
Stock devices
There is a large range of stock Carbon fibre devices available on the market. At the Buchanan clinic, we are not limited to one manufacturer so we can recommend the most suitable device.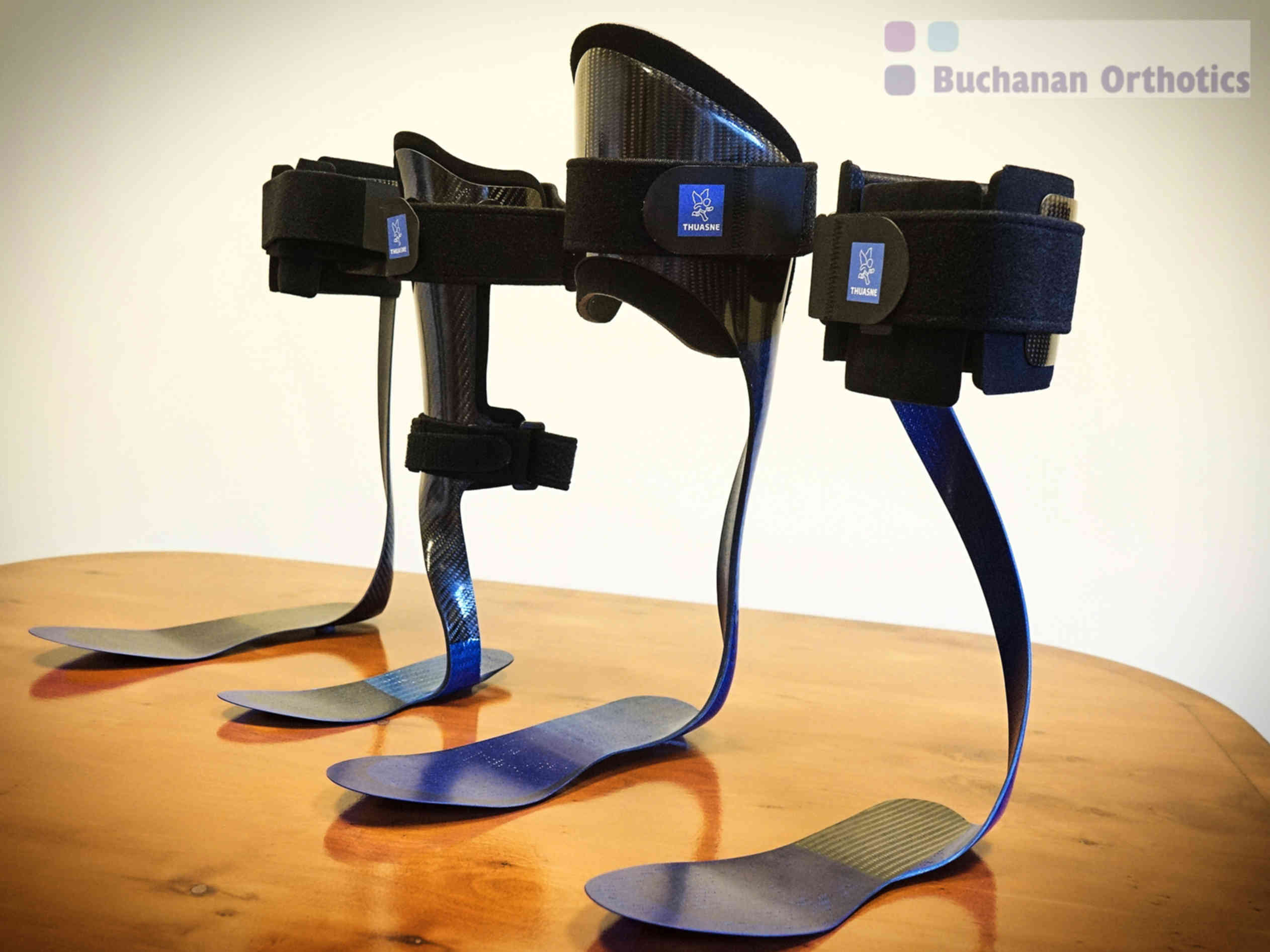 Sprystep Family of Carbon Fibre Stock AFO's
Custom devices
These are custom made and designed to individual needs and due to this can cost significantly more than a stock device.
A detailed assessment is required to produce such a device and it will often involve a number of appointments. This is to ensure that optimal fit and function is achieved.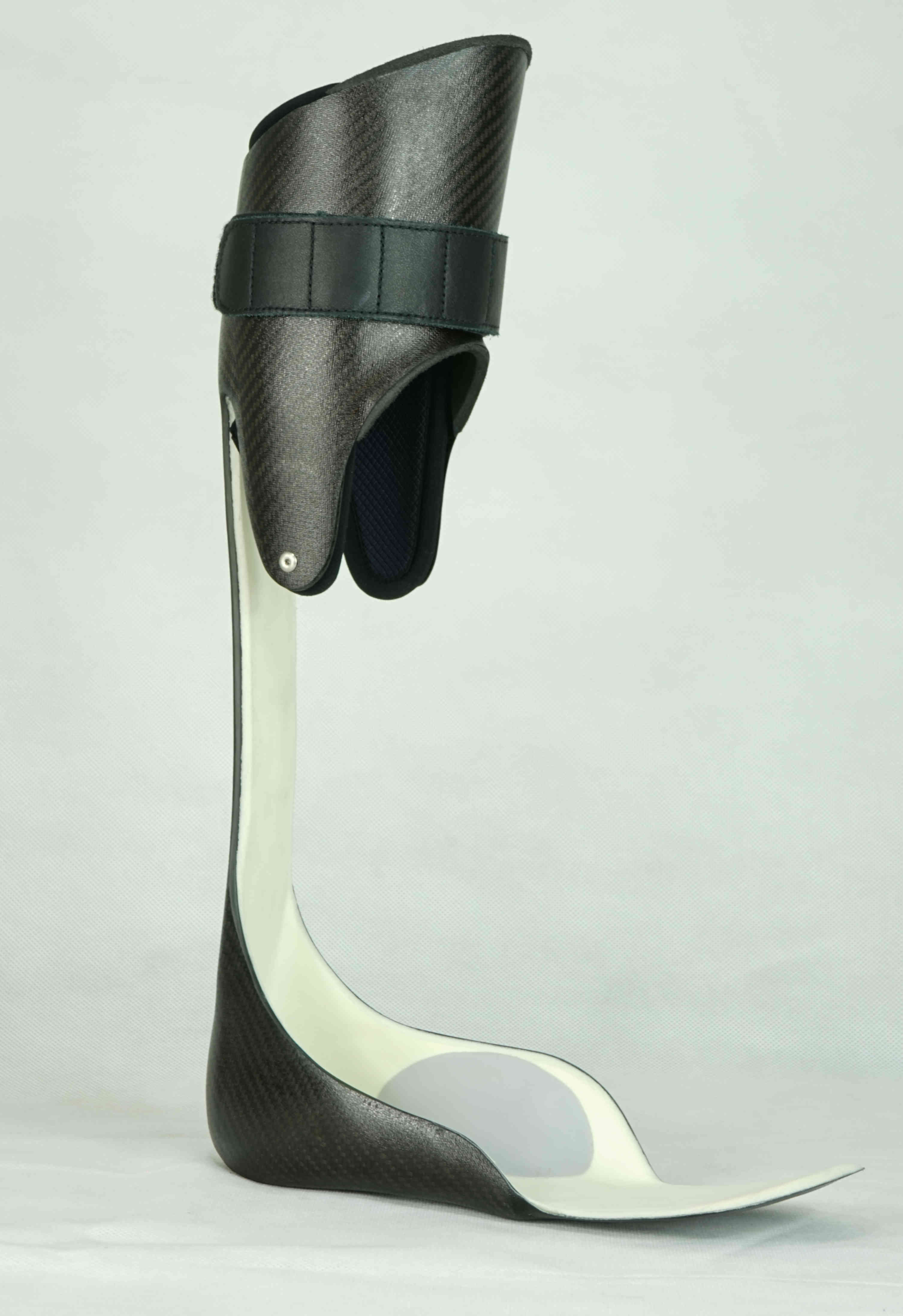 Custom Carbon AFO produced by OttoBock
Sprystep Carbon firbre KAFO from Thuasne


Do I need an assessment
It can be difficult for us to advise you over the phone if a Carbon fibre orthoses fits your needs. We always recommend an assessment so our orthotist can fully assess your needs and recommend the most appropriate device.
Contact Details
Email: [email protected]
Call: 0141 440 1999
Address: 603 Helen Street, Glasgow, Scotland, G51 3AR
Online Booking: Buchanan Clinic Appointments