Ossur Products available online
The Buchanan Clinic is please to be offering braces from Ossur available to purchase direct from our website.
Founded in 1971, Össur has wide-ranging expertise in the development, production, and sale of non-invasive orthopaedics. After its first listing on the Iceland Stock Exchange in 1999, the Company expanded rapidly through a series of strategic acquisitions. Significant ongoing investment in research and innovation has also been central to its growth. A global leader in the field, Össur is determined to further strengthen its market position. The Company has been listed on the NASDAQ OMX Copenhagen Stock Exchange since 2009.
Headquartered in Iceland and employing a staff of around 4,000 located in over 30 countries worldwide, Össur has extensive operations in the Americas, Europe, and Asia, with numerous distributors in other markets.
Having used Ossur products in both the NHS and private practice our clinicians trust Ossur to provide innovative and evidence based devices that allow people to have a 'life Without Limitations'
While some products can be fitted without seeing a clinician some braces require assessment and fitting by a trained clinician, braces such as the unloader X fall into this category.
While focusing on lower limb stock bracing we are happy to offer prosthetics accessories such as the Iceross Lubricant to aid the donning of prosthetic limbs.
Some of the products we are suppling include
The Foot-Up from Ossur was launched in 2008 and has sold millions of devices. This device has become the go to description for most elastic devices to aid foot drop.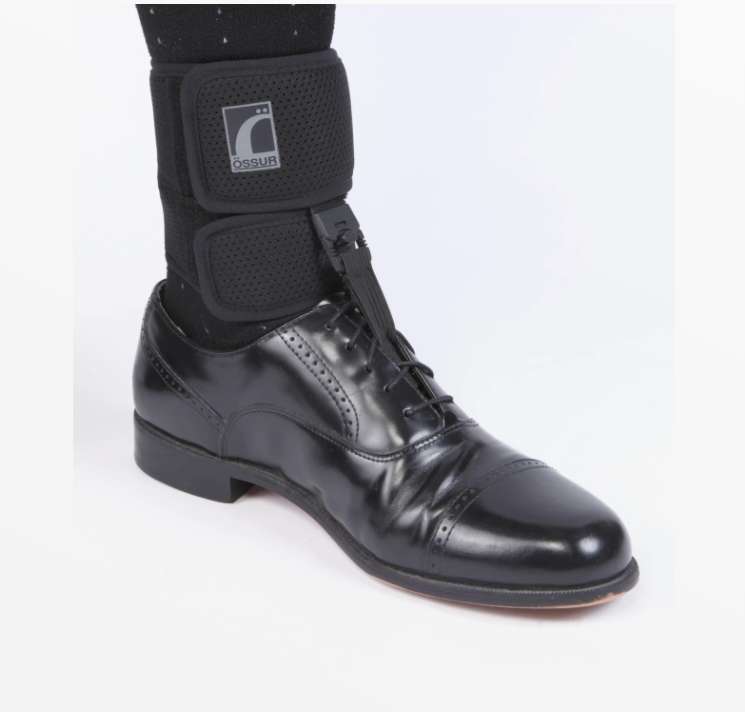 The Rebound Foot-Up is an upgrade on the original Foot-Up, a drop foot brace which has sold millions worldwide since its launch in 2008.
The Rebound Foot Up splint takes the design as step further.

Rebound Foot-up
Formfit Range
We will be offering most of the Formfit range including the Formfit Ankle brace which is available with and without the figure of 8 strap.