What is the difference between Stock, Modular and Bespoke footwear
What is the difference between Stock, Modular and Bespoke footwear?
The Buchanan Clinic is part of Buchanan Orthotics. We have been supplying the NHS and private patients with specialist medical treatments since 1951.
Our footwear is manufactured at our factory on Helen Street, Glasgow, utilising the highest quality materials and made by a combination of both experienced technicians and modern technology.
Through the Buchanan Clinic, we can provide three different types of footwear stock, modular or bespoke.
Each group of footwear have their own strengths and weaknesses and our Orthotists can help you decide which may be most appropriate for you.
Stock Footwear
As the name suggests, these are ready-made and often described as 'off the shelf' footwear. Due to the way they are produced they can be the most cosmetically appealing as they allow for more 'high street' look.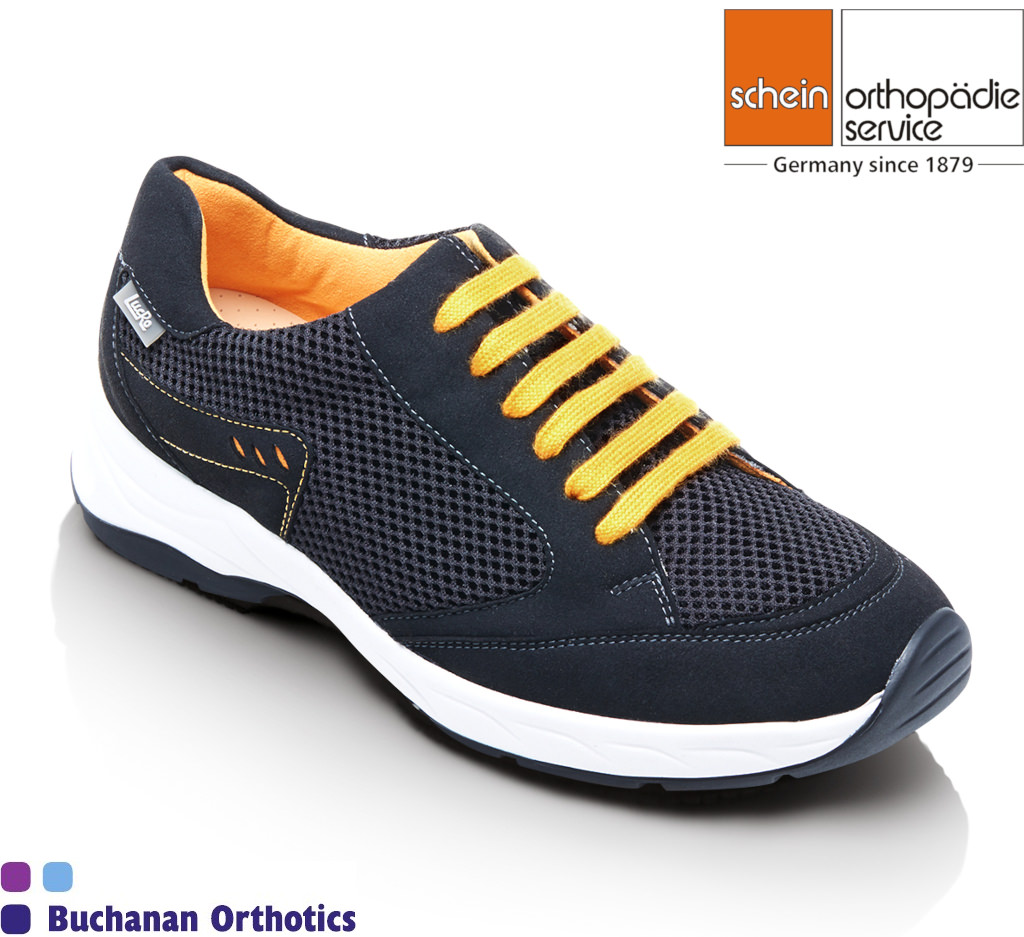 While the footwear is ready-made they come in several different widths and depths often with designs aimed at specific conditions such as diabetes or Rheumatoid.
Often this type of footwear is used to allow for a thick custom made insole to be used due to the increased depth over shop footwear.
Due to the large choice of style, widths and depths, we do not keep these in stock but after careful assessment and measurement by a member of our clinical team the appropriate footwear is ordered.
Our preferred brand of stock orthopaedic footwear is the Lucro range by Schein. However, our Orthotist would select the most clinically appropriate footwear brand for your needs.
Modular or Semi-Bespoke Footwear
This refers to the style of production where the last can be altered to fit with measures taken of the feet.
Lasts
Example of a Modular Last
The Last is a hard generally plastic representation of the foot that is used to shape the upper of the footwear.
For our Steprite range of footwear, we have a 20 different lasts in each size, each of which has its own specific qualities.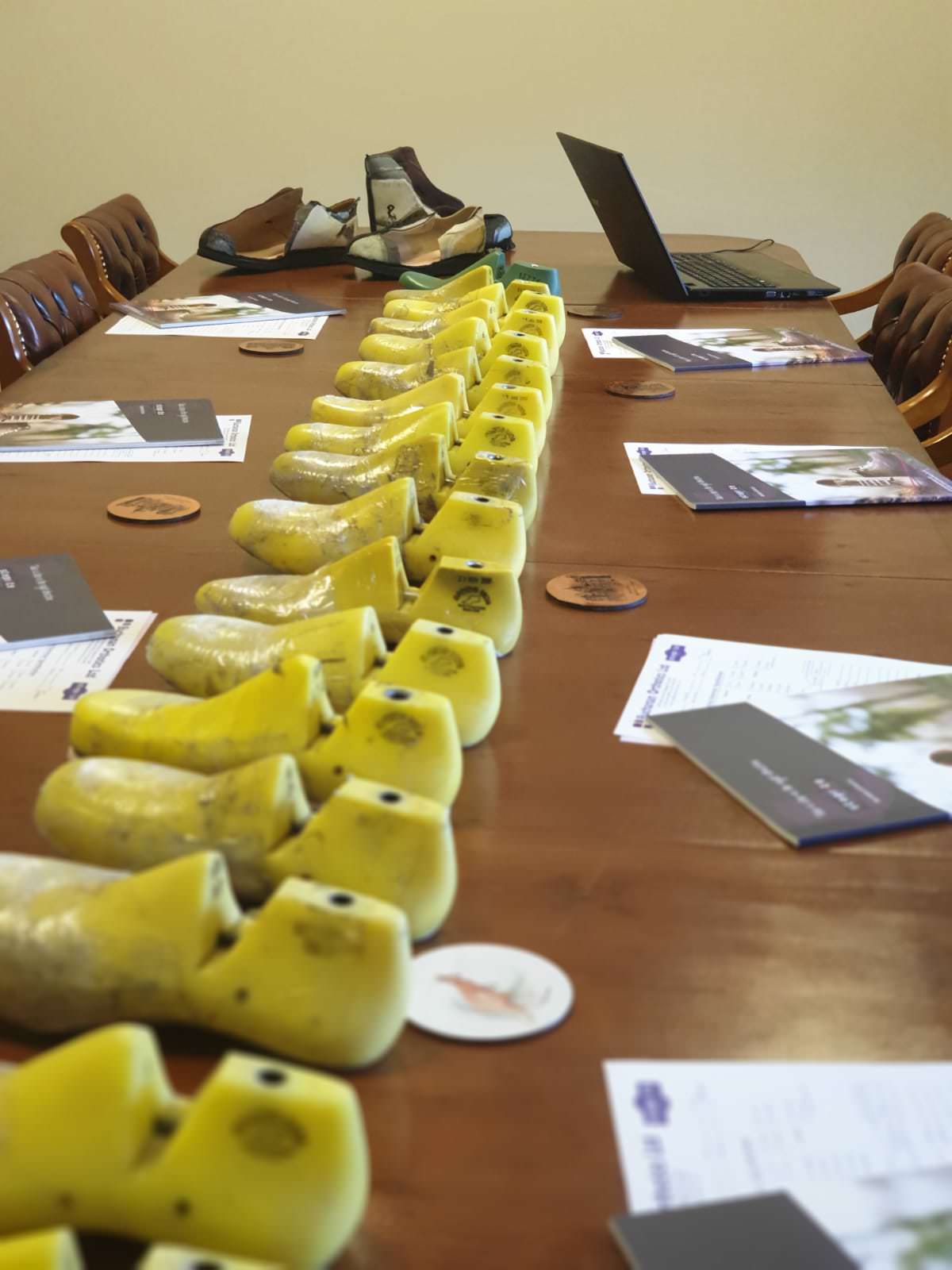 All the lasts in one size
The advantage of this system is that if you do not fit into a last exactly we can build up or adapt the last to a specific measurement. A typical example of this would be if a bunion was present and the last was too narrow in this region the last can be altered to increase its width.
It is also possible to have minor alterations of the upper design to be made and all styles are available in multiple colours and fastenings.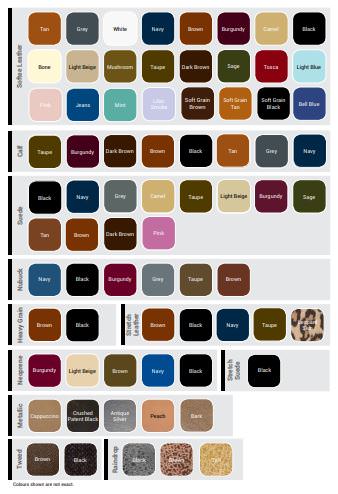 All the colours and materials Steprite shoes are available in
Trial Fits
Often with modular footwear, we would suggest a trial fit of the footwear before completion. This involves the footwear being tried on before the sole unit is attached. Extra leather is left on the upper to allow for further alteration prior to completion. We suggest this to ensure the fit of the footwear is optimal and any areas of high pressure or tightness can be highlighted.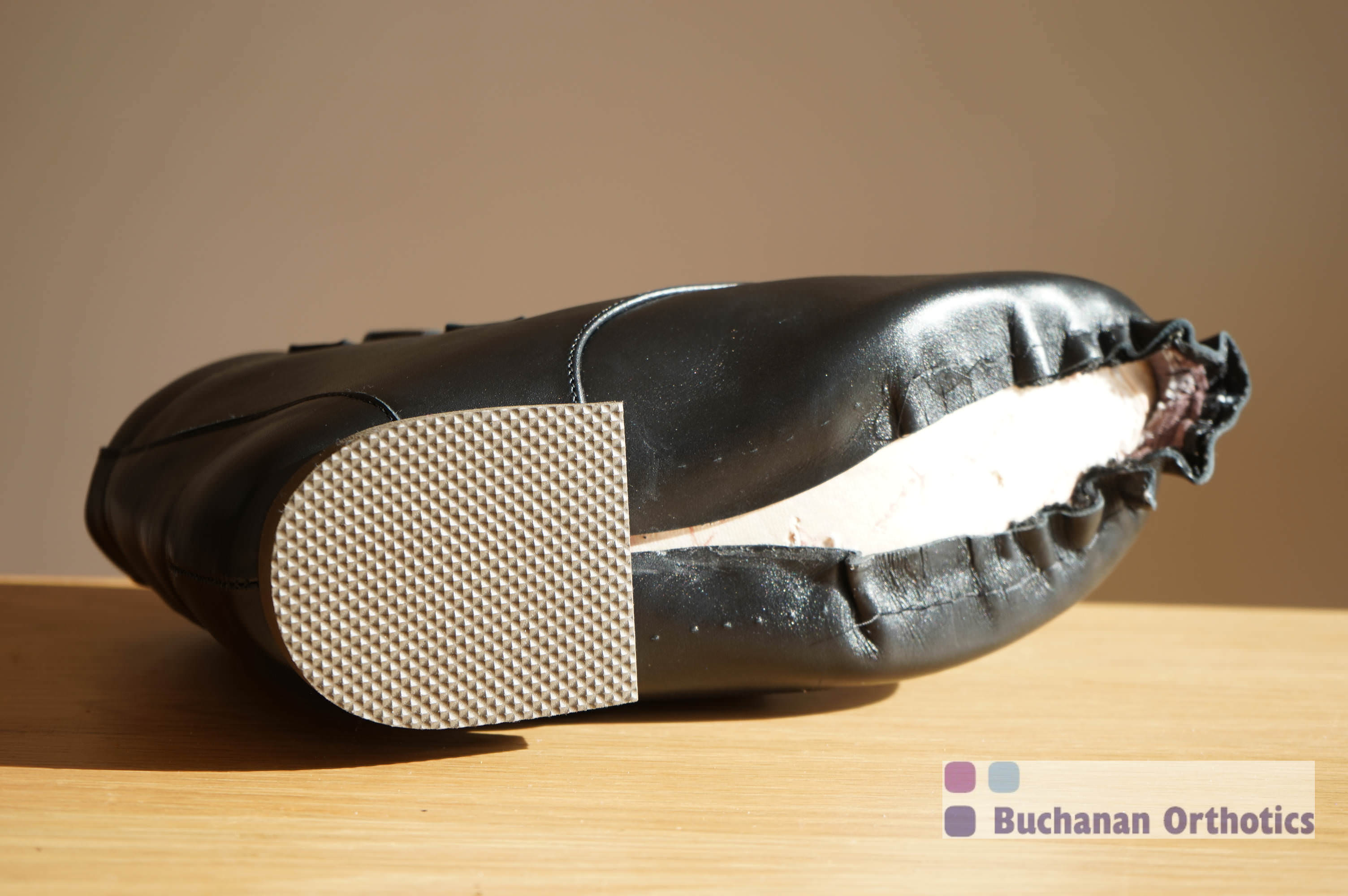 Example of the base of a boot at the trial fit stage
Bespoke or Handmade Footwear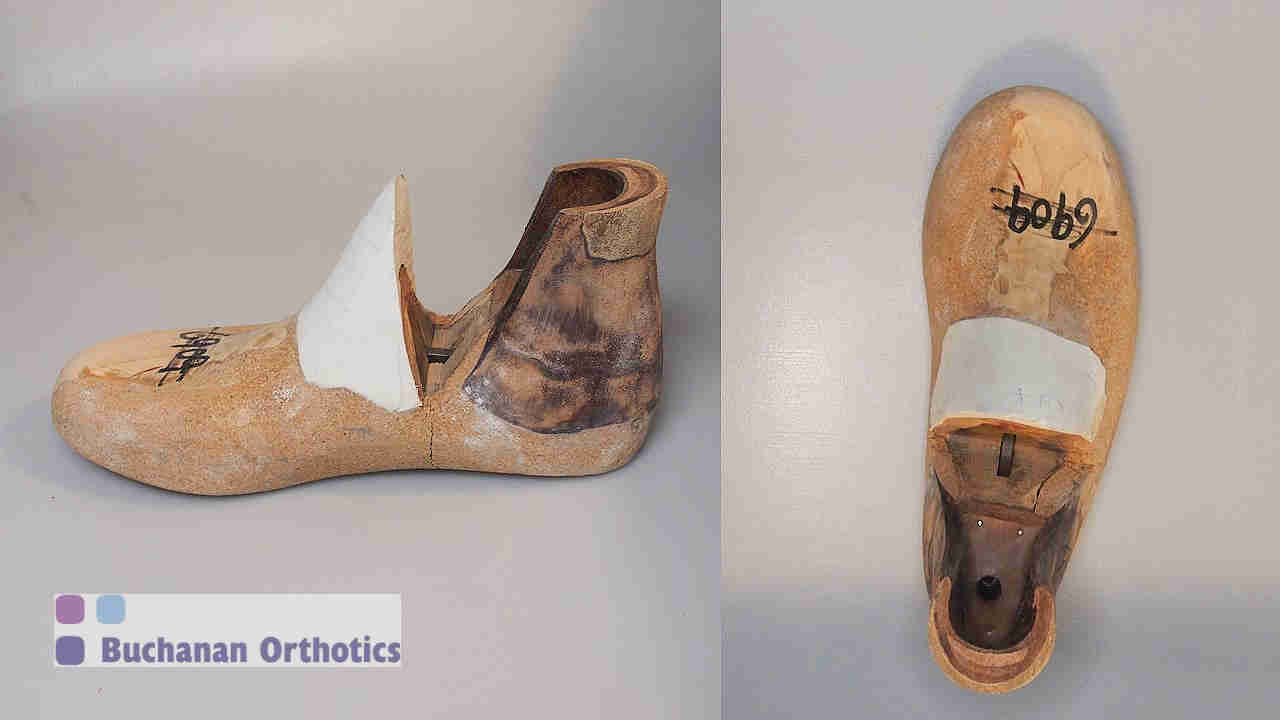 Example of Bespoke Last
Bespoke or Handmade footwear production involves the production of a custom last which is used to design the uppers of the footwear. The last is produced by the taking of a draft and measures but may also require the taking of a plaster cast or 3d scan of the feet.
Due to the custom made nature, any style or colour can be manufactured as long as it is clinically appropriate. It's for this reason we do not have a catalogue to select styles but will often base them off the Steprite range however if there is a style you have in mind this can often be accommodated.
Bespoke footwear will always have a trial fit to ensure fit and comfort.
Due to the handmade nature of the last and upper design it is the most time consuming and lengthy production process of the three types.
Once the last is produced it is kept in our store to enable repeat footwear to be produced to the exact same specification and size.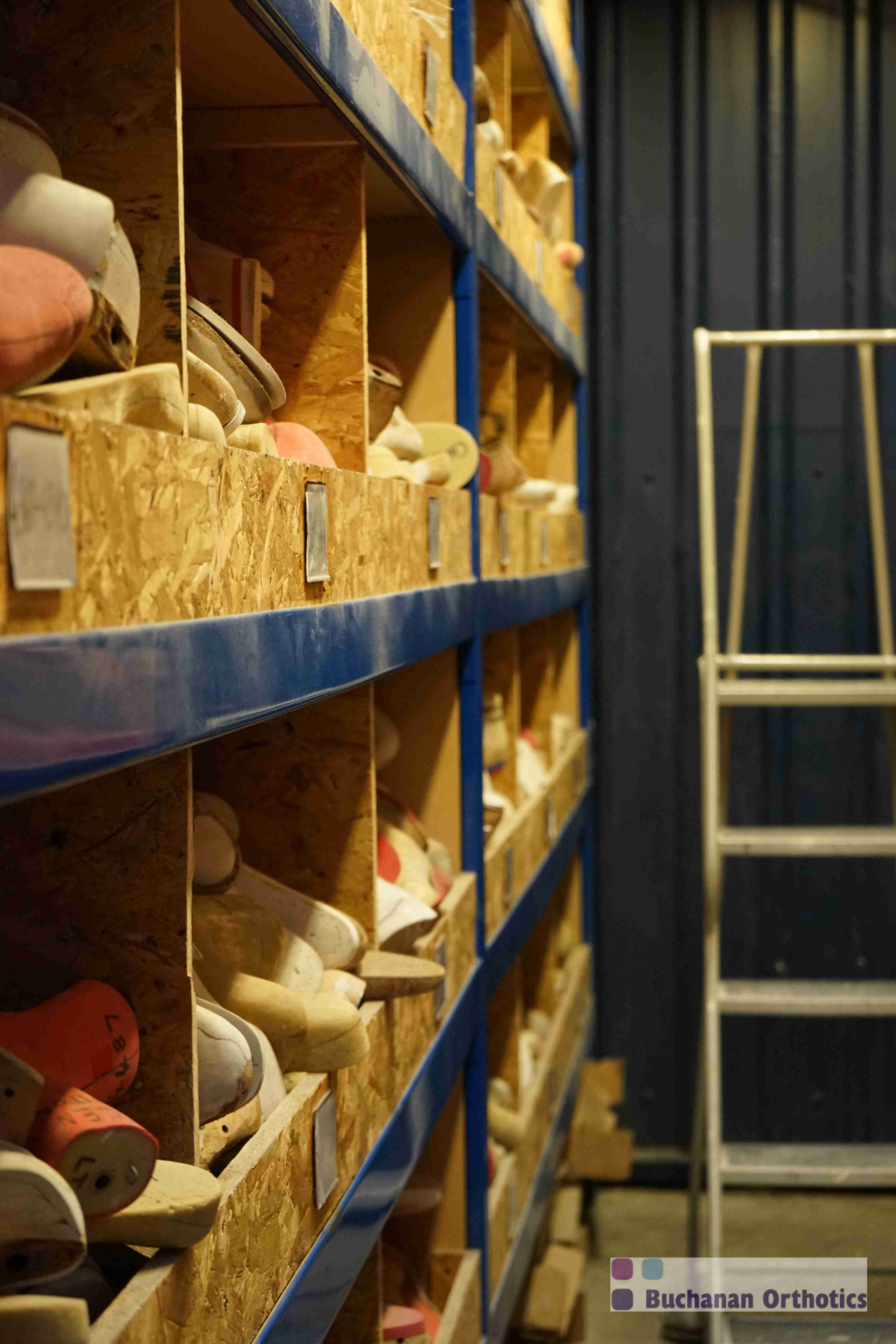 Last Storage
Do I need an assessment
It can be difficult for us to advise you over the phone if our footwear fits your needs. We always recommend an assessment so our orthotist can fully assess your needs and recommend the most appropriate footwear.
Unfortunately due to the nature of our footwear we are unable to sell direct to the public and require an assessment and measurement from a medical professional who is trained in footwear prescription.
However, it is possible to purchase repeat footwear without the need for an assessment.
Contact Details
Email: [email protected]
Call: 0141 440 1999
Address: 603 Helen Street, Glasgow, G51 3AR
Online Booking: Buchanan Clinic Appointments