Now is the Time for On-Site Massage
Why We Need On-site Massage

We know the UK is facing serious healthy concerns right now, but looking at workplace health and wellbeing statistics is eye-opening. CIPD estimates the average cost of stress alone per employee is £1,900 and the cost to UK organisations at £12 BILLION every year. One in six UK workers will suffer from depression, anxiety or stress-related problems at any one time.
On average, employee absence due to work-related stress reaches 23 days for anxiety and 30 days for depression. NICE estimate that effectively managing mental health of employees in an organisation of 100 employees could save up to £250,000 a year per business. Forbes earlier this year published '5 Reasons Executives Should Schedule a Massage Today' and we agree - it's time businesses looked towards massage for the good of our health.

On-Site Massage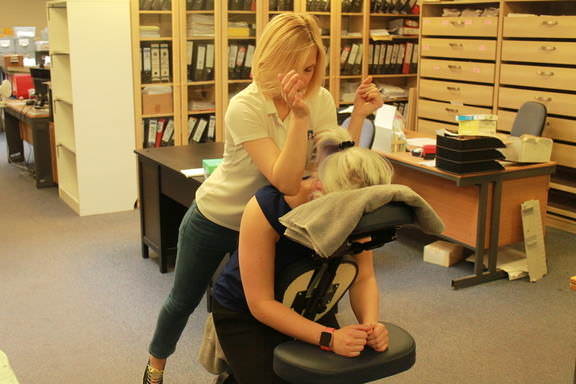 Through our massage clinics, we hear directly from customers the benefits - whether that's relaxation or invigoration - and believe massage is a great avenue towards a healthier body and mind. Some people, however, just can't seem to fit in the time after work to visit a therapist. They might have family to look after, no local access to a clinic or they're simply too tired to visit after finally getting the time.
Companies have begun to realise the benefits to employees of taking a break from the computer and helping people optimise their desks for safety - with a better monitor, mouse and keyboard, for example. The real step towards workplace health and wellbeing, we believe, is bringing onsite massage to employees.
We give free trials because we know that companies will be amazed at the positive effects in their workplace. Not only do we find a reduction in workplace stress but employees also talk to others about how great they feel. The responsibility for making this improvement comes to management and employees see a health and wellbeing scheme as a huge employment perk. When we first launched corporate massage we had a trial run for about 50 employees in our Glasgow office and factory. The visible improvement in the environment was something even we didn't imagine. The only criticism we got was that it wasn't yet a regular occurrence!
Proving the Benefits of Office Massage

The most prolific study on office massage was published by the Financial Times. The company studied saw a 25% decrease in time off and claimed to see a $200,000 decrease in compensation payments after bringing in office massage.
Other studies have shown high levels of cortisol to be linked with high blood pressure, a worse immune system and obesity. Findings from the American Massage Therapy Association show that massage can increase the immune system's capacity to fight of 'bad' cells, and decrease T-cells which helps towards the overall immune function. Researchers have also examined nurses during work hours and found that massages during work reduced stress-related symptoms. Other study results have also shown:

-

RSI reduction by 37% after weekly chair massage

Average 6% drop in blood pressure across multiple studies which can make a massive difference. The effects were shown to last weeks after treatment concluded.

14% decrease in pain and discomfort for people with carpal tunnel syndrome and tendonitis issues.


At least two studies have shown an increase in employee speed, alertness and accuracy following massage.

Massage proven beneficial to chronic back pain.

Reduction in migraines.

Trusting a Massage Company
Most companies we talk to think that offering employees an onsite massage would be a great way to invigorate employees however I understand when a few also have reservations. Most corporate massage companies act as agencies for therapists and designate them across the country depending on proximity. That doesn't mean that therapists any less qualified necessarily, but it does mean that you aren't always sure of who will turn up every month. With a company like ours, for example, we supply the same trusted therapists every week with our on-site massage packages in Edinburgh, Glasgow and surrounding areas so that you can relax and let us do the work.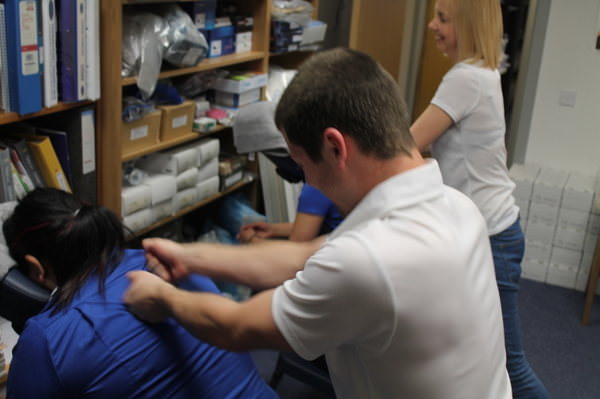 With all the evidence showing that office massage can be beneficial in the workplace, it's no wonder organisations such as Toshiba, Ikea and even the NHS have brought in on-site massage.
The only question now is…what's stopping your workplace?